This Father's Day Gift Your Father the Joy of Connecting through Native Language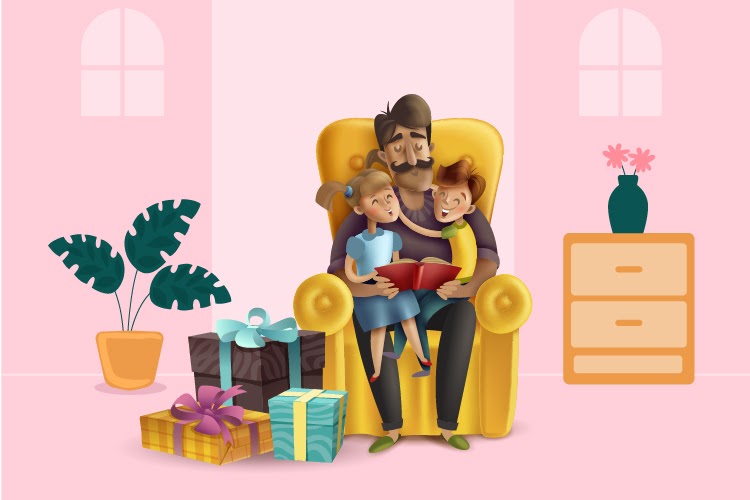 With our daily hustle and bustle, often we underprivileged connections and relationships. As the pressure of deadlines and weekly targets mounts on, reflecting on your personal relationship with your friends and family becomes challenging in our efforts to be ahead in the race of being successful. We often forget that as we grow up, leaving the comforts of our childhood nostalgia, home, and its people behind to embrace the ways of the world, those people- our parents whose world revolve around us, are growing older and learning to let go of their precious ones in search of freedom, independence, and meaning in life.
Every year Father's Day comes and goes, with sudden extravagant celebrations lasting for one day, remembrance, sentimental advertisement to capitalize the opportunity. Relationships are becoming a way of marketing campaigns due to our own negligence and inability to stay connected with those who matter the most.
The disastrous pandemic in its deadly and vicious outlook made us reflect on the utter fleeting nature of lives and people. It has shown the futile attempt of controlling aspects of our existence. It has made us ponder that wish we had some more time with each other.
We strive every day to give a sense of meaning to our lives, we work hard to become worthy in the eyes of society to be extraordinary, yet all that we want right now is to go back to normalcy. The normal and simple ways of life when we could stay unmasked, stay close to our loved ones, visit them whenever we wanted, and take the normal state of things for granted in our efforts to go beyond ordinary. Through a tremendous hardship that forced us to reflect on our actions, to wish for spending that extra moment who truly mattered.
Perhaps this Father's Day is a day to reconcile such feelings and make efforts to prioritize ordinary, everyday relationships, and stop being influenced by the facades of extraordinary, to spend more time with our beloved ones when we can, to live and be grateful for being able to breathe, to find the ways of extraordinary amid the inklings or ordinary.
Near or far, technologies have made it possible to stay connected with our friends and family anywhere in the world. This Father's Day empowers your father to embrace the positive aspects of technological innovations. Assure them with your presence and shower them with your love and care. Staying apart never signifies lost connections, and that is precisely what this Bangla Keyboard signifies.
Introduce your father to this Bangla Keyboard App with a built-in Bangla dictionary. This Bangla Typing Keyboard unites the bond of connections by enabling users to communicate with each other that too, in their native language.
Native language is regarded as the mother language since it's the way anyone understands and establishes the perception of the world. Previously, very few technological innovations worked to mitigate the uprooted connections with users' native dialect. As we move towards a more egalitarian world, technology is not just a prerogative of a dominant language. Through such innovations, lost connections are being established once again by reviving the beauty of the native dialect.
This is precisely what the beauty of the Bengali Keyboard is. It has an integrated AI-powered Bangla typing console that will enable your father to stay connected with everyone in his own way without being dependent on external factors. The highly customizable console can be tweaked and increased the board size, font type, colors, and shape to suit individual needs. The keyboard can read, interpret and comprehend texts, emojis, and sentiments, thus offering outstanding suggestions. Integrated words and phrase makers lessen manual typing efforts and ensure a seamless typing experience with a constant sense of staying connected.
Not only Bangla typing, but the Bangla keyboard also offers Banglish typing which enables swift translation effortlessly. The plethora of emojis leaves users spoilt for choice. 
Even while staying apart, you can give your father the gift of typing seamlessly in Bengali and have agency while conversing. Harness the power of innovations to bridge the distance while prioritizing the ones' that matter.
Here are some of the curated Father's Day quotes that you can share with your father to celebrate this day and to make him feel loved, not all day but through all odds and shine. Shower your care for standing by your side through all storms that have passed and the storms that are to arrive and making you believe in the silver lining.
"My father gave me my dreams. Thanks to him, I could see the future." —Liza Minnelli
"A father is the one friend upon whom we can always rely. In the hour of need, when all else fails, we remember him upon whose knees we sat when children, and who soothed our sorrows; and even though he may be unable to assist us, his mere presence serves to comfort and strengthen us." —Émile Gaboriau
"My father didn't tell me how to live. He lived and let me watch him do it." —Clarence Budington Kelland
"When my father didn't have my hand, he had my back." —Linda Poindexter
"Thank you for the example you set and for your leadership in our family. We love you, Dad!"
"We could never hide how much we love you, Dad. Not even in a duck blind with camo on!"