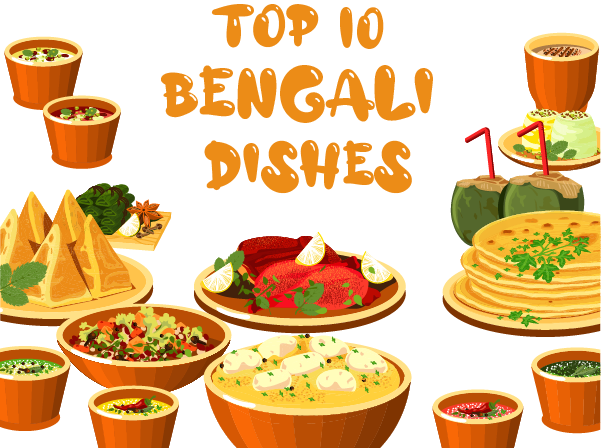 Visiting West Bengal on tour or as a vacation and not trying out the Bengali Cuisine is a sin! "Why", you ask?
Well, we're saying this because Bengali Cuisine is something too unique to miss out on! Its dishes bring in an unpredictable combination of ingredients and are unbelievably rich in taste!
Speaking of dishes, do you want to try some of them out? Of course, you'd try them!
Here's a top 10 guide for Bengali dishes you must not, we repeat, you must not miss trying!
Aloo Posto: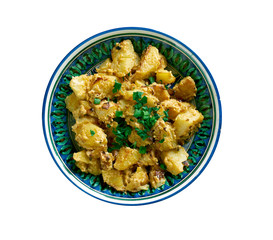 Our first delectable dish is the Aloo Posto! It is primarily a potato dish with poppy seeds for spicing, nigella seeds (kalonji) for flavour and mustard oil for cooking. Team it up with rice, and you get a combo that can comfort you out of any bad day. Kalai Dal (Urad Dal) will be a great addition to this tasty business!
Shukto: Hold your horses. We're just getting started! Shukto is a Bengali dish that will taste good and solve your problem if you or anyone in the house doesn't like vegetables! It's a plethora of vegetables cooked in unique spices with creamy milky gravy with a slight sweetness and a core bitter taste. You're in for a treat if Shukto is being prepared with rice!
Sondesh: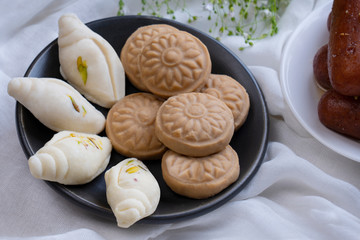 This is a Bengali milk dessert you would have to be aware of if you're a sweet tooth! The best part about Sondesh is that it's easy to make, is delicious, and you can add your customization as per the occasion! There are variants of this dessert that might use chhena(paneer/cottage cheese), but trying out all of them is a must!
Begun Bhaja: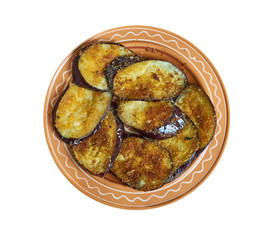 Any eggplant lovers reading this blog? Even if you don't like it so much, then it might be just the dish you need to taste to make you like eggplant! Begun Bhaja is a combination of delicate spices with slices of aubergine, fried in mustard oil to a crisp. This is rightly known as one of the easiest party appetizers because it requires no time and little effort!
Chamcham:
Chamcham is another dessert you are not permitted to miss! Cylindrical pieces of chhena cooked in sugar syrup become the mouth-watering dessert almost everyone craves! This sweet is easy to make at home, but it needs time and patience. Do you have what it takes? Why don't you find it out?
Kanchkolar Kofta: This type of koftas is made from mashed raw bananas known as kanchkolas, dipped in a delicious, thick gravy made up of several spices. For the readers who think that Bengali Cuisine is all about fish and chicken, this is a dish that rivals the meat-based items many people love!
Chital Macher Muitha: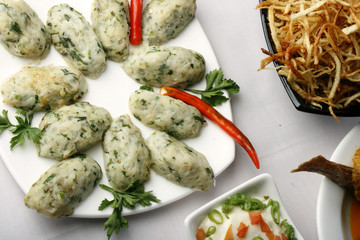 This dish has got the occasion vibe to it. If you're being served this, then you can figure out that today is a special day! The chital fish is the main ingredient here, added with potatoes, onion, and a hearty bunch of spices to give you the ultimate taste and a cloud nine feel!
Shorshe ilish: Shorshe ilish is a traditional Bengali recipe in which ilish mach or hilsa fish is cooked in the shorshe bata or mustard paste curry. Hilsa fish in a Bengali home means celebration and joy. It is called many names, like the harbinger of happiness and the queen of fishes. With the taste of this dish, it is rightly called so!
Muri ghonto: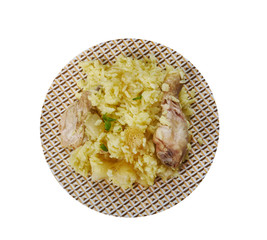 The Muri Ghonto is a signature Bengali dish prepared with Rice and Fishhead(mostly Rehu or Katla). Potato chunks are added to the mix for making this combination unique. This is one of the few Bengali dishes prepared with rice which is a side dish. Serve it with plain rice and Bhaja Moong er Daal, and top it off with green chilli and a piece of lemon!
Rosogulla: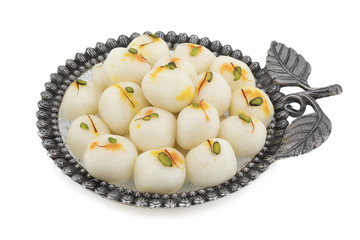 If we need to tell you about this dessert, do you even live here? Just kidding with the question! The best way to tell you about the taste of this milk and sugar delight is to just place one of these in your mouth and let it work wonders!
As you might have guessed by now, the list is too small to cover the entire Bengali Cuisine judiciously. So, we want you to try the cuisine out yourself!
Enjoy your meal(s)!
Now that you are aware of the most delicious Bengali dishes, switch to Bangla typing keyboard by Bharat Keyboard as an ultimate solution to search for the best Bengali options directly in the Bangla language across all your android devices. Not just that, this keyboard also comes with a customized pack of Bengali stickers to help you communicate and interact with your loved ones using amazing Bengali dishes stickers to add fun and entertainment to your communications.
It's that simple! Just download Bangla keyboard by Bharat Keyboard today and experience the culture of Bengal to the fullest.