Which is the Best Bangla Keyboard for Android?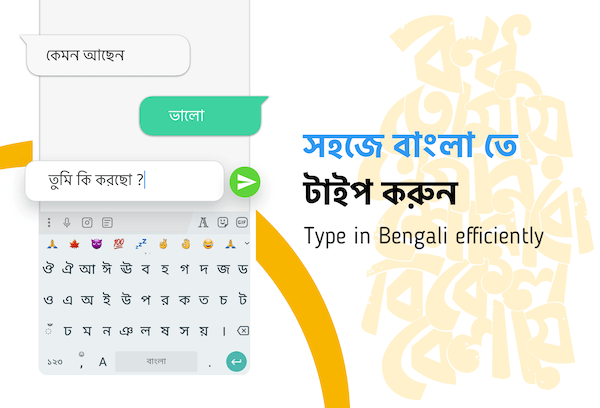 Typing in a regional language was a dream. But now, with the advancement in digital technology, you can type in using your android phone in any regional language of your choice effortlessly. Hence, communicating with someone in a language you are not well conversed with is now just a piece of cake. The Bangla keyboard app is becoming popular as you can connect with people worldwide in your language, and it helps you to express your feelings and thoughts to your friends and loved ones effortlessly. Moreover, since the keyboard is user-friendly, it is loved by many as you can stay connected with your rich language virtually.
Benefits of using the Bengali keyboard app
It becomes pretty nightmarish when you do not know Bengali but have to communicate in that language because of job pressure. However, with the help of the Bangla keyboard, you will get the best assistance typing the language. There are various reasons why people prefer to use the Bengali keyboard.
User-Friendly Interface: One of the prime features of using the Bangla Keyboard is its incredibly user-friendly interface. You can use the keyboard effortlessly even if you are not acquainted with it. One of the most significant advantages is that the Bengali keyboard is phonetic. Hence, you will have no difficulty typing Bengali without having a piece of a sound knowledge of the language.
Meme, Sticker, and GIF Library: With the help of the keyboard in Bengali, you will be able to connect and share your ideas with your friends and loved ones. Since the keyboard offers a variety of memes, stickers, and Bengali stickers, it gives you the option to stay connected socially. You can also send jokes to people of all ages, especially the ones who find it difficult with the English language. Thus it helps to make your conversation lively and memorable among people of all ages.
English to Bangla: The Bangla keyboard app gives you the option to type with the help of your physical keyboard. The keyboard automatically translates into Bengali, and you must write the words using your English keyboard. It helps you to type in the language even if you do not know the Bengali alphabet. It is an excellent way of connecting with people who find it difficult to understand English properly. Moreover, it also gives you the option to express your views and ideas in your mother tongue.
Efficient Typing: The Bengali app's keyboard helps you type text in Bengali efficiently. It has a particular application, 'voice-to-text,' that converts your speech to text. Hence, there is no need to type Bengali with effort, saving much of your time and energy. Once the conversion is done, you can edit the text according to your convenience. It is a beautiful feature that helps you to converse in your language.
Personalization: Bongs love the Bengali keyboard app because it allows you to create stickers according to your choice. You can also select themes of various types and use them along with your text to give it a more professional look. So, no matter where you live, you can still connect with your roots using the keyboard in Bengali.
Unique Features: There are various types of Bangla Keyboard apps that you can use according to your convenience. Each has unique features that can make your Bengali typing easy and smooth. The keyboard also lets you choose emojis and stickers according to your content.
Secure and Reliable: Once you use the Bengali keyboard, you can store new words in the dictionary for later use. It also gives you the option to learn the Bengali alphabet properly. You can also store the words on your android phone and use them whenever you need them. Moreover, the Bengali Keyboard also offers high security and reliability, and you can blindly trust the application and use it for any purpose.
Free to use: One of the most valuable advantages of using the keyboard in Bengali is that it is free. You can download the app from your play store and use it at your convenience. Moreover, the best part of the application is that you can easily switch the keyboard. Hence, the Bengali keyboard gives you supreme experience typing and conversing in your mother tongue.
The usefulness of knowing Bengali typing
In the present era, a lot of content is being prepared in regional languages. Bengali, one of India's critical languages, has a high proportion in various parts of India and the world. Hence, when content is prepared in Bengali, it is widely accepted by the Bengali community worldwide.
Therefore, with the introduction of various Bengali app keyboards, you can now make content in your mother tongue and keep the culture strong. Moreover, you can install the Bengali keyboard app on your android phone to stay connected with your friends and loved ones on Facebook, WhatsApp, and other social media platforms. There is no need to memorize the keys of the keyboard, and you can use phonetics to type seamlessly in your mother tongue.
The facts of using some phrases in Bengali
One of the prime reasons that are keeping the popularity of the Bengali keyboard app on top of the peak is because Bengalis are obsessed with their language. No matter where you are, connecting with people using your mother tongue gives you a sense of belongingness. Moreover, you can express certain words and phrases only in Bengali. Even if you type the Bengali word in English, it will not have the same impact as it will have by writing in Bengali. Therefore, you can endlessly converse with your friends and family in your language, giving you a feeling of oneness and we-feeling.
Conclusion
Bengali is one of the world's most popular and sweetest languages, and it provides a sense of satisfaction when you connect with people who know the language. Moreover, the Bengali app keyboard gives you a perfect platform to express your feelings to the brim. It keeps your spirit alive as you get connected with your loved ones. Therefore, now download the free Bengali keyboard from the net and increase the level of fun.